It was in July 2017 when I started feeling very low.
I prayed to God before going to sleep to kill me in my sleep. No, I did not want to die… I just wanted my pain to end. I wanted to kill my thoughts which kept telling me 'I am a looser', 'I am not a good son of my parents', 'I don't deserve anything in my life' and 'No one will respect me because I was feeling worthless.'
Then finally I decided  to consult  a therapist and Psychiatrist  when I began losing control over my work. During consultation it dawned on me that I had been depressed since 2014 but it was in 2017 that the symptoms fully hit me.
In the initial phase, I tried to isolate myself completely. My interaction with people was decreasing gradually. I was losing interest in my studies but I tried my very best and I was able to focus after stretching myself . I used to get irritated very easily. I stopped playing badminton which I used to love. I lost many friends because of lesser interactions with them.
For my treatment I followed therapy and medication.
I didn't hesitate to take the medications for even one moment. Whenever I used to feel lonely, I immediately tried to switch to Social Media, i.e Facebook and Twitter. This also helped me a lot since I never felt alone because of it. I took regular Therapy sessions and medications for approximately a year. Today I am enjoying my life fully, am able to practice as a Psychiatrist. And still trying for my post MD entrance for further studies.
What made me go in public?
I would say that I have studied depression and I have also walked the walk. Now I know exactly how a person feels when he/she is depressed. There are many myths about Depression and especially medications prescribed for it. I wanted this message to go out loud and clear:
What you have been hearing and telling each other is wrong. I decided to speak up because I thought that if by coming in public if even one person listens or reads my posts on Social media it will help me to save lives. If you want a change in society and your surroundings, the first step should always be taken you.
 My message to the readers-
'Dear readers, it is okay if you suffer from any mental health issues. Our brain is an organ and it can also get diseased like other organs of our body. You cant be physically fit if your  mental health is not sound. Illness needs to be treated and needs to be faced. Therefore, take help and seek help. Depression lied to me. It made me feel the fault was with me, that it was me who was worthless. I urge you to seek professional help if you suffer from Depression or any other mental illness. I took help, I fought it and I have survived it well. If I can do it you too can.'
~ Dr.Ankit Patel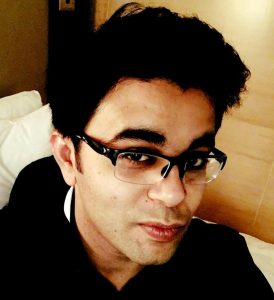 Dr. Ankit Patel, the Author of this article,
is a practising Psychiatrist.
Thank you Doctor for bravely sharing
your story!
It makes a big difference because not
only this demonstrates that depression
can happen to anybody, but even a
Psychiatrist seeks treatment and takes
the supposedly 'harmful' medicines to
control the illness.
More power to your tribe!!