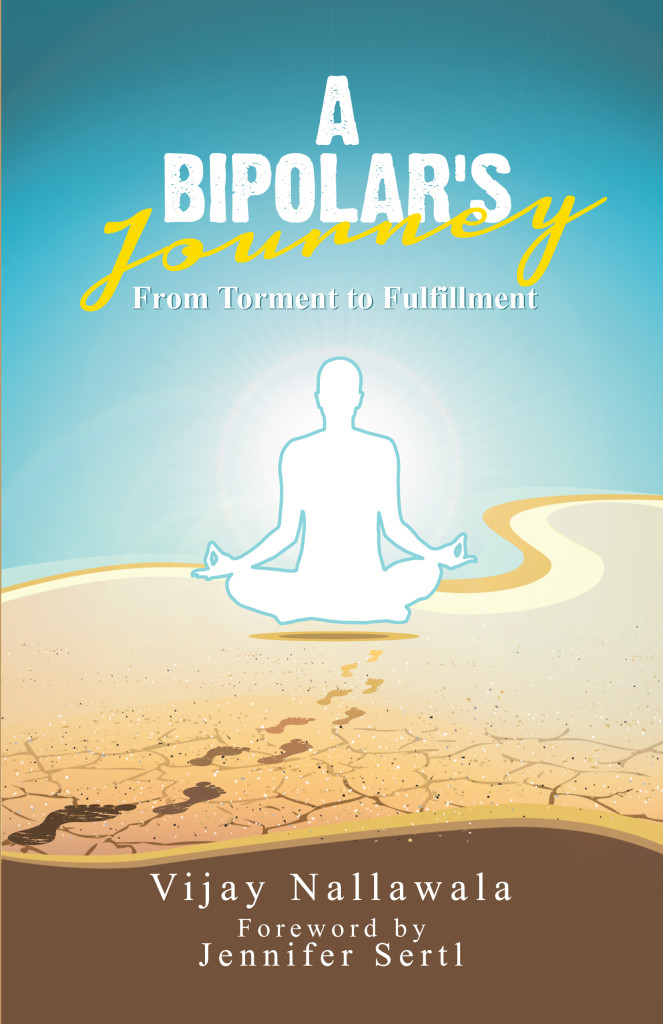 The Book is a natural extension to the journey I set on when I began writing publicly about my Bipolar Disorder affliction and set up this community website.
What I call a labour of love, has received favorable feedback from bestselling Authors of global renown~
 Raju Mandhyan: Coach, Author and Speaker of Global Renown~
"Finished the book in two sittings by the poolside. I thought it was a fascinating dance of emotions, angst and transformations. The amazing thing was that the dancer himself was an insightful and empathetic observer. Beautiful piece of work! The book is beyond being heart-wrenchingly insightful and is also very well written. The stories spill out as aroma does from flowers."

It is indeed gratifying when India's Holistic Wellness Diva backs you! Thank you Dr.Sonica Krishan.



One of the premier Life Coaches in the world, Malti has been supportive right through this journey. Gratitude Malti Bhojwani, for everything.
The very first Review by a Blogger is very gratifying~
" 'A Bipolar's Journey' is the autobiography of a man who has defied all odds to emerge victorious in spite of his affliction and still continues to do so. There's a frank openness in the writer's voice. He confides in the reader all about his private life—every emotion, success, frustration, and humiliation— very honestly and authentically. He tells us the story of his heroic battle against adversity, prejudice, stigmas, stereotypes, of his will to succeed and his search for an identity in a country that lacks greatly in understanding the workings of the human brain. In the process of self-realization, I'd say he has become a beacon of hope for those who ride the same boat as his. "

It was an honour to have Dr.Amit Nagpal write about my journey on his globally acclaimed Blog~ Enlarge Excel Evlove 

Author Inderjit Kaur on Amazon 5*****
"A Bipolar's journey is the first book, that I've ever read that truly captured the unnoticed tyranny of this illness – As an observation this is a very new kind of concept or subject here in India and I hereby take this opportunity to congratulate the courageous effort by the author to depict the authenticity of his painful events along the journey in form of enlightenment, to so many deserving, to come out of this darkest tunnel.
The Author has done a tremendous job for writing such an important segment of reality, that's unnoticed in our society.The book showcases vivid though painful descriptions reflecting back signs of determination and courage that lights hopes to many."
Meenal Jaiswal  on Amazon 5*****
"Overall, it is an inspiration not just for people suffering from Mental illness but otherwise too. The author not only suffered from Mania and Depression but overcame that. The journey that the book covers from the early signs to the treatment of torment and finally achieving fulfillment.. it is a witness how spirituality and science merge to create a fulfilling life. Dealing with the physical battle of asthma and mental illness of bipolar, he chose a holistic approach for his healing and health. In the last section there are inspirational stories of others.
The book cover graphically depicts the torment to fulfillment journey and the inside content is even more fascinating. The writing style is very simple to read, print is clean, illustrations interesting and writing very gripping. I personally believe in an inclusive society. This book definitely does its bit for the same along with the website.
Overall, the book provides hope and inspiration for anyone who faces any physical, mental or emotional challenge."
Santosh Guha, Texas on Amazon 5*****
"Beautifully written book. It is very evident that each sentence is right from your heart. Phenomenal work. I salute all those associated in helping you, getting thru it and most importantly you speaking about it openly. You are doing a BIG help to the society by openly speaking about it."
Dr Amit Nagapal (on Facebook) ~
"After a long long time, a book brought tears in my eyes with its empathy evoking storytelling. Few chapters inspired with their authenticity and few filled me with awe because of the courage with which he has shared his struggles and vulnerability. The book deserves to be a bestseller because it proves the maxim, 'The story sets you free.' "
Jennifer Sertl (Excerpted from her Foreword ) ~
"We really don't know transparency until reading Vijay Nallawala's 'A Bipolar's Journey~ From Torment to Fulfillment". His story is probably the most transparent you have ever read. Honest, open, full of brave admissions of fear, doubt, desperation and hope. The emotions are visceral…
….He has taken an ice-axe and severed the stigma."
To explore this Book more, click on this Link or Book image above.