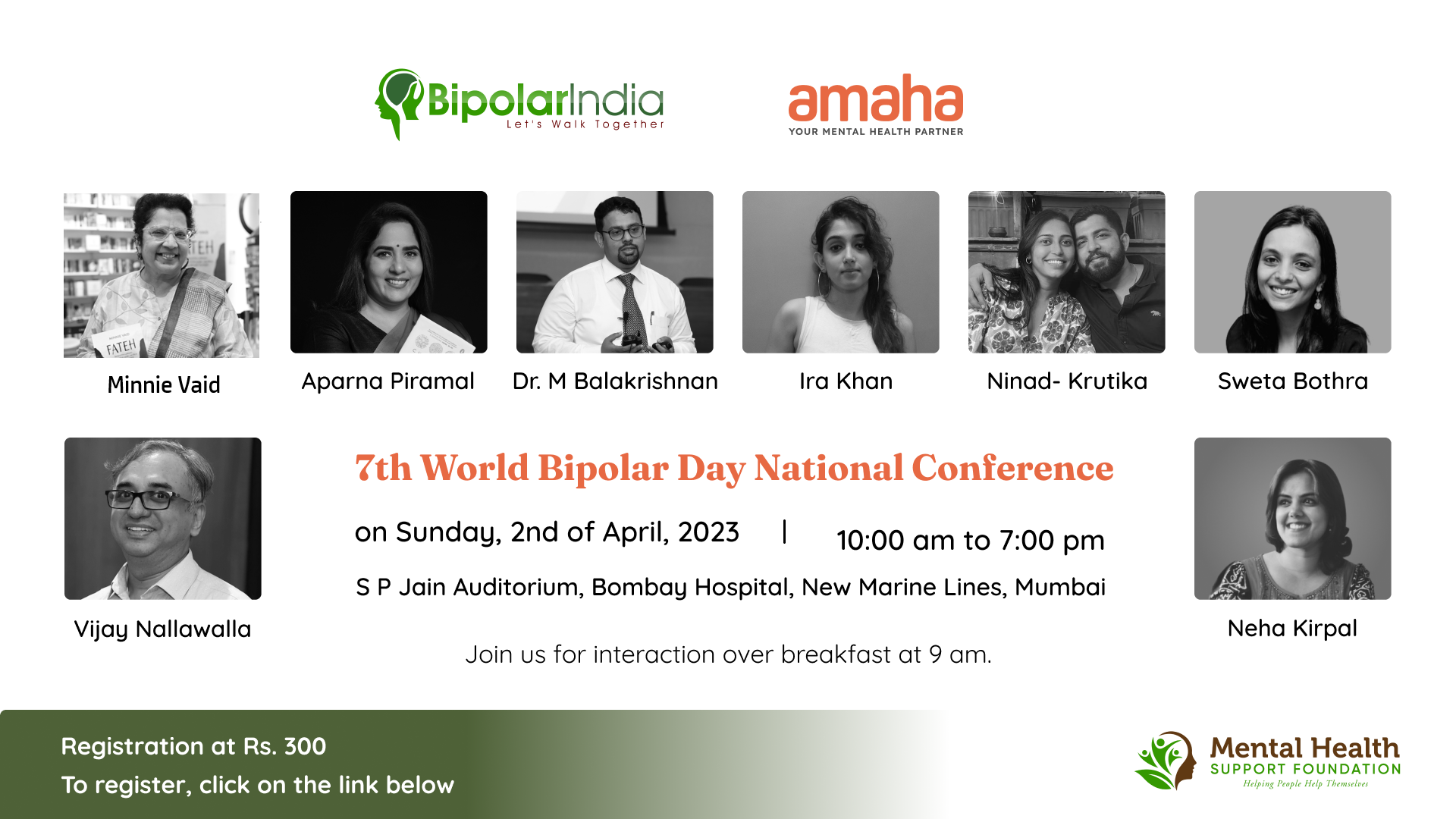 After a pandemic forced gap of 3 years, the community converges once again offline to mark World Bipolar Day 2023! It has all the makings of an invigorating day of conversations, sharing of rousing stories of lived experience, showcasing of some fine organisations and of course, presentations by professionals. This year, we have AMAHA as our presenting partner for this Conference.
World Bipolar Day is celebrated all over the world on the 30th of March each year to mark the birth anniversary of the troubled genius of an artist, Vincent Van Gogh, who was posthumously diagnosed with Bipolar Disorder. We have slated the conference on the nearest Sunday instead, i.e., the 2nd of April, so that more people can find it convenient to participate in.
And we have a stellar array of speakers and presenters lined up for the audience which joins in from all parts of the country. You will be in for quite an experience! (At our World Bipolar Day 2019 Conference, people had joined in from Delhi, Jaipur, Pune, Surat, Kerala and several other parts of the country apart from Mumbai, of course!)
So here's a glimpse of what's in store for the audience that comes from cities and towns outside Mumbai to be a part of the unique experience.

Anjali, Krutika & Ninad
Living with chronic mental health conditions can be quite challenging. This is a rousing story of a family supporting each other, through times rough and smooth.
Dr Anjali Gokarn is a practising Paediatrician, living with Depression and Anxiety and is an active, vibrant member of the Bipolarindia community. She is also the mother of Ninad Gokarn.
Krutika & Ninad
Ninad Gokarn is a Swimming Coach and lives with a mental health condition. Ninad and Krutika Gurav, a lawyer by profession make a wonderful couple.
Anjali, Krutika and Ninad are passionate about fitness and showcase a heartwarming example of how caregiving family members support a person's recovery journey.
Ira Khan
Ira Khan is the founder and CEO of Agatsu. She has cyclic clinical depression since age 18 and was diagnosed in 2019. The kindness of her heart is rivalled only by the fire of her spirit. She recognizes that human beings themselves are humanity's greatest enemies when they are busying themselves not being its champions.
Agatsu is her invitation to everyone to confront the unknown within and find their own truth. Ira has done her practitioner level 1 in Krav Maga (a martial art) and is a Rescue Diver (scuba diving). She directed Medea by Euripides (Greek tragedy) in 2019 and did 10 shows.
Vijay Nallawala
10 Years Journey of Bipolarindia and Beyond
Vijay is an Author and Founder of BipolarIndia. He has over 4 decades of lived experience with Bipolar Disorder which inspired him to pioneer Bipolarindia, a pan India peer support community. He is Co-Founder of Lets Walk Together and Founding Trustee of Mental Health Support Foundation, the umbrella entity under which Bipolarindia operates. He is a fitness enthusiast and now devotes his time and energies entirely to the above organisations. Prior to this, he had been an entrepreneur for 3 decades.
Captivating Capoeira performance by Nupur Shikhare AKA Popeye
Capoeira is an Afro-Brazilian cultural practice – simultaneously a fight and a dance – that can be interpreted as a tradition, a sport and even an art form.
Be prepared for a mesmerising experience!
AMAHA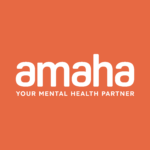 Amaha was born as an organisation to provide life changing mental healthcare to anyone ready and willing to seek it. With over 110 therapists and psychiatrists in-house amaha today caters to a range of mental health conditions online and in their centres in Mumbai, Bangalore & Delhi. They recognise that treatment & care should always be supported by peer communities for anyone to truly feel better, get better and stay better.
Overview on work of Amaha & its values
Neha Kirpal,
Co-Founder, Amaha
Presentation: Sweta Bothra
Role of Psychotherapy in Bipolar Disorder
Sweta is the Lead Clinical Psychologist at Amaha with 12+ years of experience. She specialises in Cognitive Behavioral Therapy (CBT), Group Therapy, Clinical Research, Family Therapy, and all types of Psychometric Assessments. She has worked with adolescents and adults across numerous conditions; viz, anxiety, depression, bipolar disorder, and personality difficulties.
She has a Master of Philosophy (M.Phil.) focused in Clinical Psychology from Kasturba Medical College, Manipal.
She believes therapy works best when it is collaborative and goal-directed. She trust's that 'awareness and acceptance of difficulties' is the first real step towards helping oneself.
Minnie Vaid
Minnie Vaid wears many hats—journalist, documentary film maker, author, writer/researcher, television professional and creative producer.
Over the last 30 years, she has produced, directed, and scripted over 30 films and television programs, some of which have won national and international awards.
She also writes books. Out of the four non-fiction books that have been published, her book on ISRO's women scientists of Mangalyaan is the most popular, the second edition now sold out. Her latest book Fateh is narrative fiction, based on a real-life story.
Her special area of interest is Mental Health—the challenges, the hurdles faced, the stigma related to it, the resources available to combat this invisible disease. Her latest documentary MITA CARES features mental health initiatives in rural Assam by the Ngo 'the ant', their outreach and awareness programs. The film was telecast on Times Now and Mirror Now on World Mental Health Day in 2022.
She is a passionate speaker for the rights of people suffering from any kind of mental illness.
Dr Milan Balakrishnan
Presentation: Bipolar Disorder, in simple terms.
Dr Milan Balakrishnan is a Consulting Psychiatrist & Psychotherapist, with Masina Hospital and Bombay Hospital and his private practice.
He is Ex Secretary, Bombay Psychiatric Society and Alumni Seth GSMC and KEM hospital, Mumbai
Dr Milan is Panelist on Bipolarindia and Founding Trustee, Mental Health Support Foundation, under which, Bipolarindia functions.
Aparna Piramal Raje
Aparna is a writer, columnist, speaker and educator and the author of the recently released, Chemical Khichdi: How I Hacked My Mental Health, a book on her experiences of living
with a serious mental health condition for the last two decades.
Her column, Head Office, in the Mint newspaper, looks at leadership through the lens of workspaces and workstyles. Over 100 CEOs have been featured in Head Office. The column led to her first book, Working Out of the Box: 40 stories of leading CEOs. She has also previously contributed to the UK's Financial Times Weekend, a leading global newspaper.
A visiting faculty member at the Anant National University in Ahmedabad, and former CEO of her family's office furniture business, Aparna studied at Oxford University and Harvard Business School.
Panel Discussion followed by Q & A:

Dr Milan Balakrishnan, Consulting Psychiatrist, Sweta Bothra, Clinical Psychologist & Aparna Piramal Raje. Moderated by Vijay Nallawala
The Q & A Session is usually a very interesting and informative one which involves active audience participation.
Screenings of a few short video films relevant to the theme have also been planned for the day. There will also be Books and Artwork on display and for sale at the venue.
The Registration cost includes Breakfast, Lunch and Afternoon Tea/Coffee with snacks
Join in for interaction over Breakfast between 9 am to 10 am.
The Venue details are mentioned in our header image here's a map of the same:

So, Register for the Event now!

N B:
We have priced registration at just Rs.300/– per person and this includes Breakfast, Lunch and Afternoon Tea/Coffee.
You may chose to pay more than the base price to help us cover the costs of the Event.
Mental Health Support Foundation, the parent entity of Bipolarindia is a Registered Charitable Trust.