WORLD BIPOLAR DAY NATIONAL CONFERENCE, 2023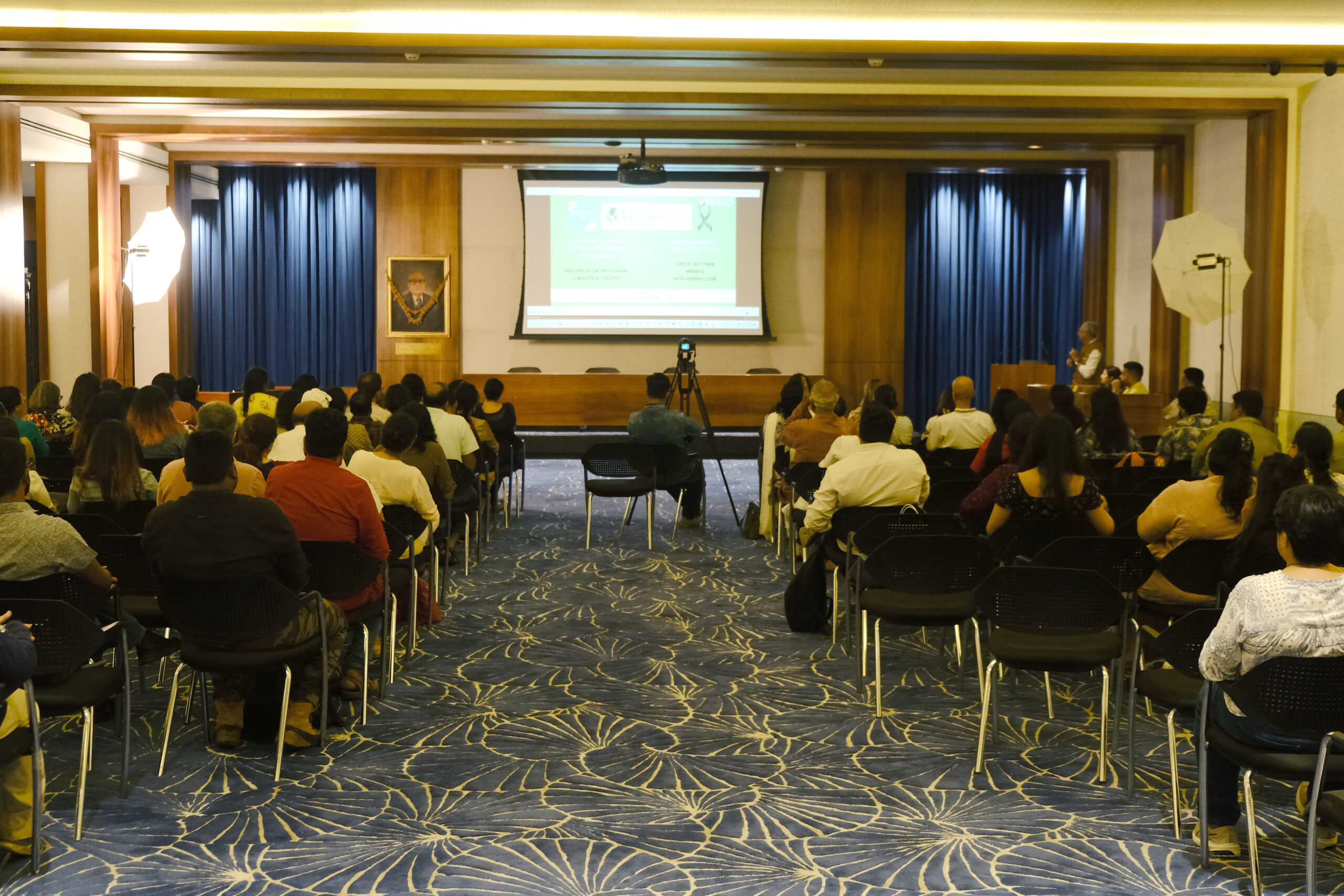 Bipolarindia conducted its 7th National Conference to mark World Bipolar Day on Sunday, 2nd of April, 2023, with Amaha as presenting partner. The well attended conference conducted at S P Jain Auditorium, Bombay Hospital, saw participation from far corners of the country including, Delhi, Kolkota, Surat, Pune, Hyderabad, Kakinada (Andhra Pradesh), Bagalkot (Karnataka), Amravati and of course Mumbai and nearby towns. Bipolarindia's own community members including those with lived experience and family caregivers and psychologists eager to take in different perspectives formed the audience of 150.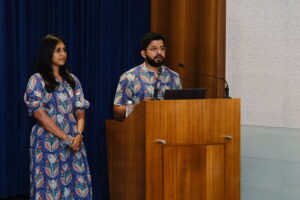 The full day Conference kicked off at 10 am with a rousing talk by Ninad & Krutika. The candid sharing by Ninad about his recovery from addiction after many years of struggle and how he manages his bipolar disorder was awe inspiring. Dr Anjali Gokarn has been his highly supportive caregiver. In fact, Anjali was slated to open the talk but a viral infection prevented her from joining the conference. Ninad's spouse, Krutika, now his caregiver and the entire family's love for fitness that binds together: a template of how compassionate and unconditional support helps in the recovery of persons with mental health challenges.
The next talk was befittingly titled, Ira Khan~ Unplugged. Ira has been living with cyclical depression since age 18,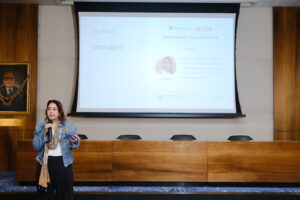 although diagnosed only in 2019. She candidly shared her struggles along the way how it inspired her to launch Agatsu Foundation, an invitation to everyone to confront the unknown withing and to find one's own truth. Agatsu's community centre in Bandra, Mumbai has seen a robust response and is a very, very interesting model! When requested, Ira played back a creatively shot teaser of what the centre looks like.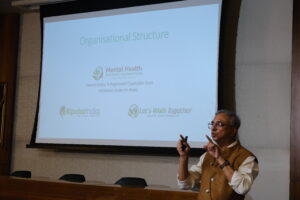 10 years of Bipolarindia and Beyond was the next presentation by Vijay Nallawala, its Founder. He took the audience through the roots of the organisation, originally a web portal to spread awareness around bipolar disorder it led to probably India's first peer led peer support community for bipolar disorder. It now regularly conducts peer support meets and workshops. A recently launched initiative of theirs is Lets Walk Together, which aims to provide livelihood opportunities to persons with mental health conditions.
Mental Health Support Foundation is the parent entity of these initiatives and Vijay is one its Trustees. A four minute teaser film on persons from diverse backgrounds sharing their views of living with mental health conditions and workplaces challenges was screened later. Manasi Nene has created these videos commissioned by Let's Walk Together.
A Capoeira performance by Nupur Shikhare AKA Popeye alongwith his team from Agatsu had the audience mesmerised. Nupur got the audience involved in the act of clapping, singing along and even inviting them to join in to match the intricate steps and movements. This was refreshing change after back to back talks.
Celebrated Author, Film Maker and Journalist Minnie Vaid then shared how all her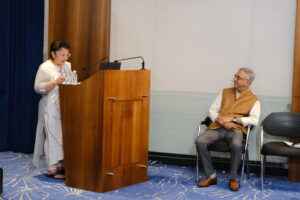 accomplishments happened despite her serious challenges with depression and anxiety for decades. She called out how toxic positivity can make a person already suffering even worse. Her overcoming all these odds to notch up one accomplishment after another is truly inspiring. Minnie warmly acknowledged the role of how the Bipolarindia peer community has been an oasis of support for her in recent times. A teaser of her fine documentary film, Mita Cares, gave the audience a glimpse of her craft.
A short video was screened that gave a fine platform to voices of those of the community and outside it. Created by young aspiring Psychologist Avantika Bharad (and she was generous enough to involve Bipolarindia as collaborator), she is also a member of the community. It helped highlight various experiences of living with bipolar disorder and had been created especially for World Bipolar Day.
The participants interacted with each other during the lunch break.
Intro of Neha Kirpal, Co-Founder of Amaha's highly impressive Bio preceded her talk. At a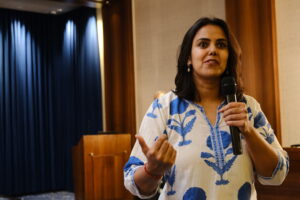 young age, Neha is quite an achiever. She shared what connects her to the cause of mental health and makes her passionate about making a difference. Neha then touched upon how Amaha believed in an integrated treatment model where psychiatry and therapy go hand in hand. With their multi city team of Psychiatrists and Psychologists, their App and chats, they intend to make mental health care accessible to more and more Indians.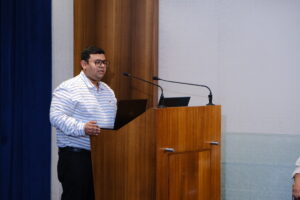 Dr Milan Balakrishnan, Practising Psychiatrist, Panelist with Bipolarindia and now Trustee on Board of Mental Health Support Foundation shared a presentation on, Bipolar Disorder Simplified. At the outset Dr Milan acknowledged that for this highly evolved audience, what he would share would probably be common knowledge. This jargon free talk was meant to demystify Bipolar Disorder and make it accessible even to those who had no prior knowledge about it. His talk covered the causes of bipolar disorder, different types of the condition, the mood spectrum, management of the condition and triggers for relapses.
Lead Clinical Psychologist at Amaha, Sweta Bothra spoke on the Role of Psychotherapy in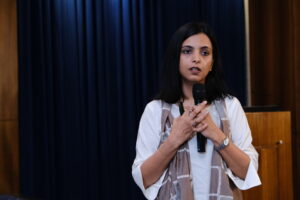 Bipolar Disorder. She spoke about how treatment with medication when supported by psychotherapy leads to better outcomes. She also emphasised on how even small amounts of exercise, such as just twenty minutes of activity of moderate intensity helps in maintaining mood stability. She also asserted that Therapy is not just for those with serious mental health diagnoses but for everyone.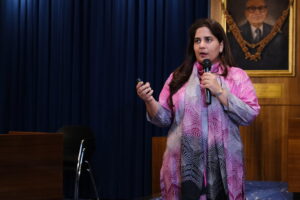 Author of blockbuster book, Chemical Khichdi: How I Hacked my Mental Health, Aparna Piramal Raje then made a presentation based on her lived experience with bipolarity and shared the unique model she utilised to overcome it in a manner that was relatable to the audience. Her presentation was highly impactful bringing the views of her caregiver sister as well. Aparna is also a columnist, speaker and educator.
As she had prior commitments, an impromptu interaction between Vijay Nallawala and Aparna brought forth what she had experienced in her journey as a high achiever, successful author of several books and now a powerful voice for advocacy.
In the break for High Tea, she interacted with audience and signed copies of Chemical Khichdi.
Resilience, Vulnerability and Peer Community were the key themes that came out of the conversations.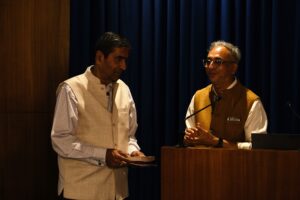 Then came a special moment.
Prakash Shenoy, was announced as the
Peer Support Mentor of the Year. His has been a stellar and selfless contribution to the Bipolarindia Peer Community over the years. His immense knowledge and wisdom often make him the person others in the community rely on in times of uncertainty.

Zeenat Jahan, Panelist with Bipolarindia, who was the emcee of the event, excelled in her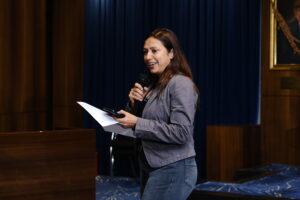 role. Zeenat had also ensured that the lobby area was a hub of activity during the several breaks. A Sticky Wall was filled with participant feedback on colourful notes. She had also created and put up posters that were relevant to the theme of the day.
Neha Kirpal had generously sponsored 20 copies of the Book Chemical Khichdi for our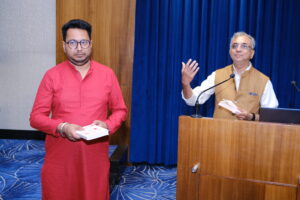 community. These were handed over primarily to all those who had come from distant cities to be with us: an acknowledgement of their commitment.
Similarly, all the presenters of the day were also presented gifts in acknowledgement of their contribution in making the day such a success.
The concluding part of the eventful day was a Panel Discussion featuring Dr Milan Balakrishnan, Ira Khan and Sweta Bothra, moderated by Vijay Nallawala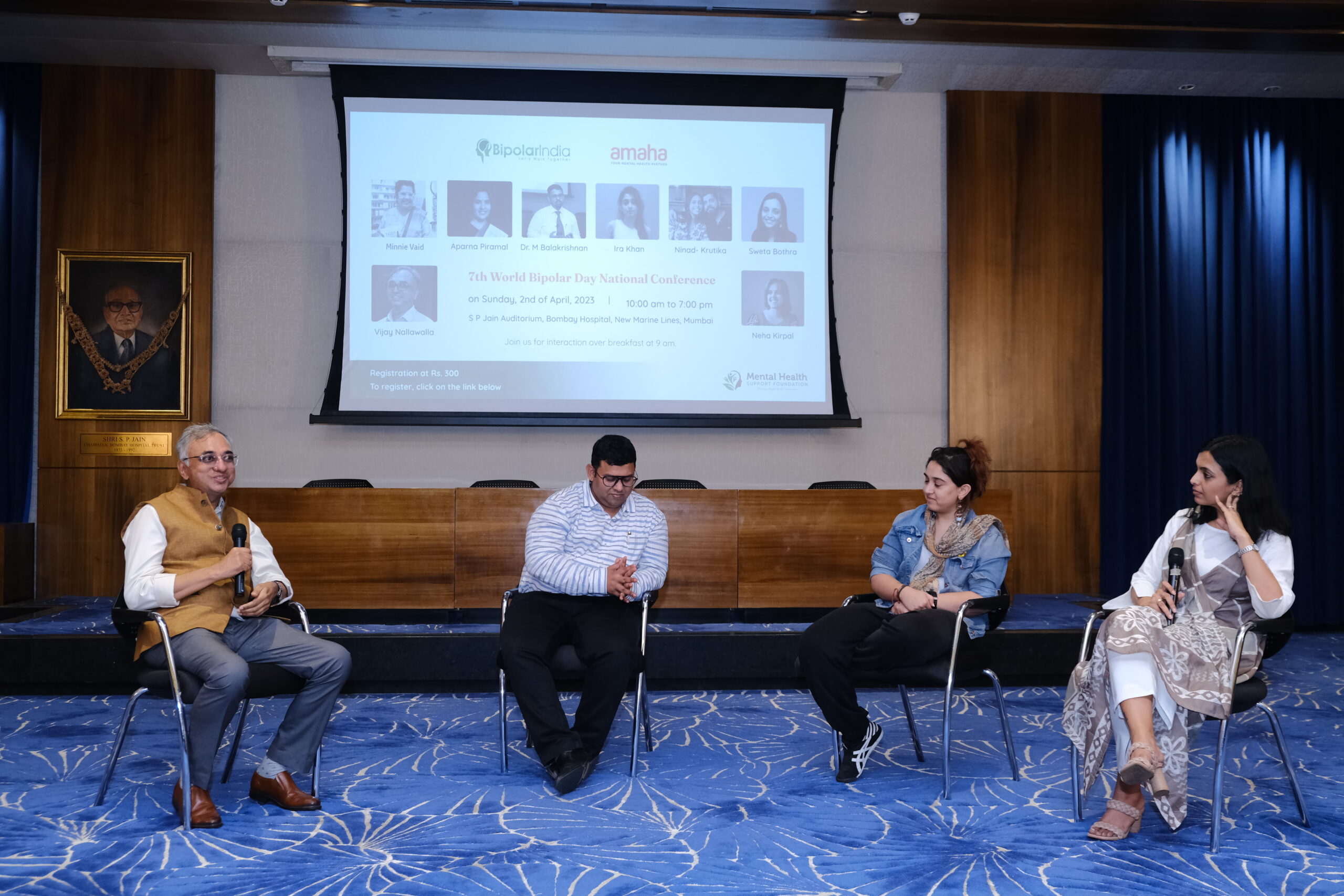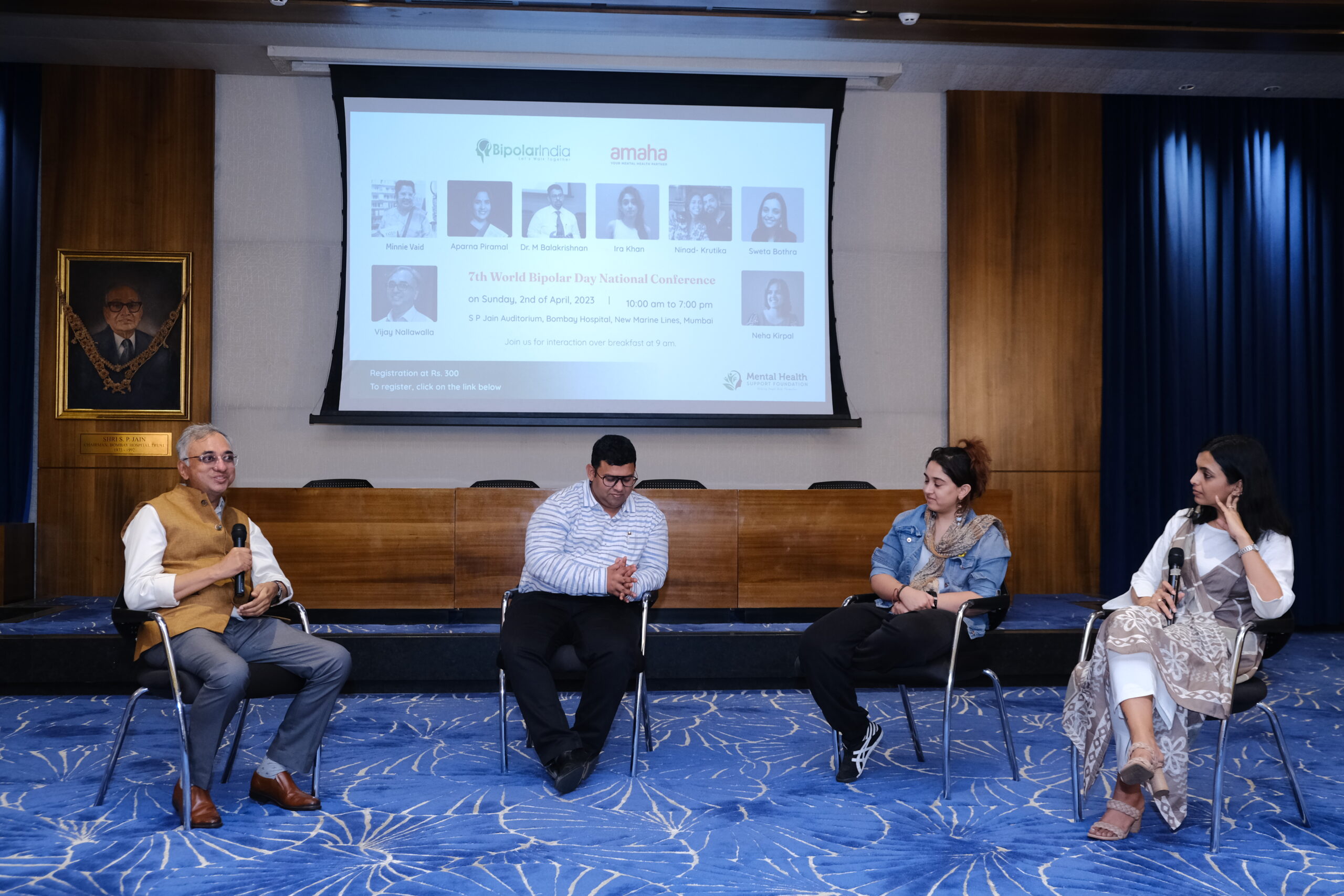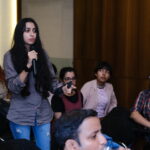 The Q & A Session
Questions from the audience comprising of those with lived experience, family carers and psychologists were then addressed by the Panelists, bringing the curtains down on a day when a community celebrated itself.