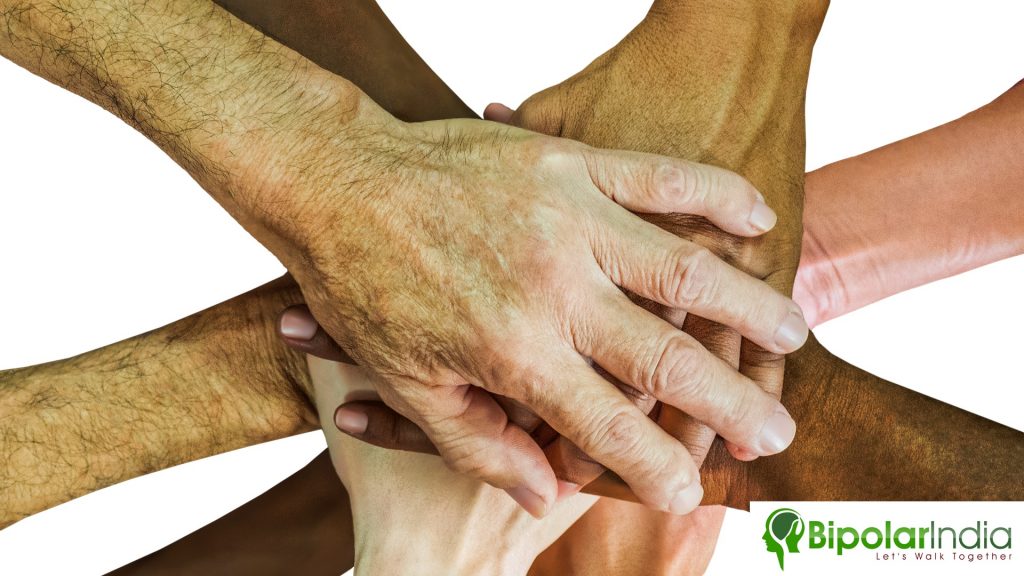 There are many global platforms/communities focused on Bipolar Disorder, Depression and other Mental health conditions. However, talking about such issues openly in India, one faces the barrier of stigma associated with mental illnesses. Stigma isolates those already suffering with mental health concerns adding to their torment. In order to partially address this, Vijay Nallawala was encouraged by friend and Mentor Puneet Bhatnagar to set up this website. He could foresee the value it would go on to create, with uncanny precision.
Thus, in May 2013, was born BipolarIndia, probably India's first online community set up by a person living with Bipolar Disorder for the BAPD and Depression community.
This non profit Community is for and about us–  persons living with Bipolar Disorder and Depression (and their Caregivers) who engage with each other. We interact on one common platform with one simple goal: offering help to each other in a compassionate way.
In order to bring all our members on one platform, we have a pan India Telegram App based Peer Support Group.
(To be a part of this group please share your details as a comment below or, better still, send them to us via the Contact Us Page. We would be delighted to have you as part of our ever growing community!)
We are also a bridge between resources and those living with Mental Health issues: Our Resources Page is a rich learning ground. We try to provide information on Mental Health Professionals, Institutions, NGOs and Holistic Healing Experts to our members, when such information is sought.
Do we only talk about the Medicinal approach and Therapy for management of Chronic Mental Health Conditions?
While that might form the most important part of managing serious and chronic mood disorders, our approach is Holistic. Hence we advocate Yoga (especially, Pranayam), regular exercise, a nutritious diet, sleep hygiene creative expression, etc, for a sustainable recovery.
You can expect inspirational stories, coping tips and suggestions from peers and post your own doubts and queries. We try to ensure to the best of our ability that members find it a safe space to express themselves. Most importantly, it is a meeting ground of people who resonate with the experiences of each other. You may voice your concerns, suggestions without holding back. It is  by sharing our experiences that we evolve, develop resilience and break the stranglehold of stigma and isolation.
Being in a Peer Support Community has several benefits. A sense of belonging, of people understanding your challenges because they have experienced these themselves, of realising that recovery is possible. Of the realisation that 'I am not the only one living with these problems! There are so many like me!'  And seeing how others are managing themselves. This instils hope and makes members more determined to overcome their challenges, no matter how daunting they seem to be.
From today onwards, maybe you have a reason to feel less lonely.
Most heart-warming is the shape this community has taken having covered a lot of ground in these years.
~ You can now reach out to Medical Professionals such as Psychiatrists and Psychotherapists, who are now on the panel of BipolarIndia and are accessible through the Page: Professional Help.
~ Public Events to mark World Bipolar Day have been hosted by us since 2016, taking awareness offline.
~ Seminars conducted by us include one on The Mental Health Care Act, 2017.
~ As mentioned earlier, we have a Telegram App based Peer Support Group drawing those living with mental health conditions from all over India. This also acts as a real time help forum for persons in distress. Our timely interventions have many a times averted serious crises. Do consider joining our community if you too live with mental health issues.
~ If you are a Caregiver to such a person/s, we have a dedicated group for family carers as well. We recognise that recovery from mental health challenges involves families, especially in the Indian context. They too often face challenges while supporting their loved ones and might find being in a community beneficial.
~ We have been conducting In Person PEER SUPPORT Meetings in Mumbai since 2016 on a monthly basis. This movement has now gradually expanded its reach and is gathering momentum in Delhi-NCR and other cities too.
~ We have hosted many focused Online Sessions for our community. Some of these sessions have been conducted by Experts from varied domains such as Psychiatry, Psychotherapy, Yoga and Nutrition.
Bipolarindia is now an initiative under the aegis of Mental Health Support Foundation, a Registered Charitable Trust.
Our journey has been one of immense learning, yet we have only just begun.
In 2021 we launched a focused initiative for livelihoods for persons with mental health conditions, Let's Walk Together
Several other such significant projects are on the planning board and the path ahead is inviting!
So, as our tagline goes, Let's Walk Together.
Disclaimer:
This site strongly advocates diagnosis and treatment of Bipolar Disorder (and other serious mental illnesses) by qualified Psychiatrists.  Any methods or resources suggested on this site are at best supplementary in the healing process and NOT by any means an alternative to professional treatment under the care of a Psychiatrist/Psychologist.