It was the 22nd of November and five of us met at a mere one day notice at a coffee shop in Mumbai. So, on a Sunday morning, Bipolar India's Offline initiative rolled off for the first time. What a satisfying meet it turned out to be!
"We are constituted so that simple acts of kindness, such as giving to charity or expressing gratitude, have a positive effect on our long-term moods. The key to the happy life, it seems, is the good life: a life with sustained relationships, challenging work, and connections to community."
Paul Bloom
I must thank Judith for pursuing this with me, for an earlier attempt to host such a meet in September had fallen through for want of participants. This time I had made up my mind~ even with a single attendee, the meet would happen! Not only did  five of us turn up at such short notice, but three others who could not make it on that day have evinced interest in subsequent meets. (This series will be on a monthly basis).
Coming back to how it began, Judith messaged me that since her husband Sushant was depressed, she was sure a Peer Support meet would help him. I readily agreed. Theirs is a story that touches one's heart..Both are young and employed in the information technology industry. Looks can be so deceptive~ few would gauge the turmoil  Sushant is going through.. He is a Bipolar 2, currently in a depressed phase. He laughs so disarmingly, maybe it his defiant spirit which says I shall claw my way back. (Oh yes, Sushant, you will!) His distress reflects in Judith's eyes. She is sparing no effort in getting him back on track and her despair is palpable.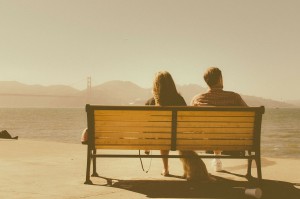 Fortunately, Sushant is young and his diagnosis happened without the condition having made deep inroads. And thankfully, all this has not affected his job. He also has the priceless support of a spouse who deeply loves him and is committed to stay the path. Judith, I can assure you, Sushant will do well. If for no other reason then to prove that like prayer, true love can also heal.
The other participant, also a Bipolar, had faced bigger crises. He actively contributed to the interaction and honestly admitted to his vulnerabilities. Also with us was a Master Reiki Practitioner whom I had met at a Seminar in 2012, Shobhana Tripathi.
I was asked to share my story following which the others shared theirs. The efficacy of such meets was evident. The first meet was more about getting to know each other, so that we could feel comfortable in each other's presence~ especially when discussing secrets and problem areas we would hesitate sharing with most people. Going forward, the focus will shift to how recovery can be aided by holistic healing. I have plans to invite a Meditation Guru who is magical with the skill of guided meditation sessions. That is one skill everyone could benefit from for sure.
As promised, I gifted a signed copy of my Book to each participant with the hope that it might help them in their lives. After a round of coffee and interchange of experiences, I asked them if the meet had been helpful in any meaningful way.
Sushant's comment was gratifying…
"Seeing your energy, it is difficult for anyone not to feel better."
Thanks Sushant.
This was proof that what works online, works even better in interpersonal exchanges.
(P.S.~ Names of participants, referred to here as Judith and Sushant, have been changed, in order to protect their privacy).