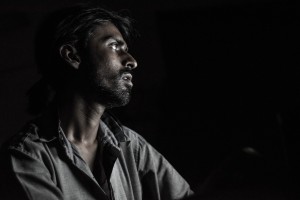 I am Prasad from Hyderabad, India.
My troubles began with depression and I later came to know that I had the mental illness, Bipolar Disorder. This brought in disruption in my career~ friction with my colleagues at work forced me to quit my job. Controlling my anger became a problem and I often shouted at people causing problems in relationships. Suicidal thoughts began disturbing me. It was in the year 2012 when I first had an inkling that I might be suffering from BD. This was because the lead character in a Movie I had seen, '3',  suffers from BD too (this was the same film which featured the song, "Kolaveri Di" a cult hit).
As my suicidal thoughts peaked, I began searching the internet for information about this condition. It was then that I first came to know about Roshni Counseling Centre, which I visited on almost a dozen occasions. This Centre offers free Counseling, treatment and telecounseling too. I then met Dr. Lakshmi Pingali, a Consulting Psychiatrist at the Centre. I was prescribed medication by her to stabilise my moods, but my friends discouraged me from taking meds. Unfortunately I listened to them and neglected the Doctor's advice. As my suicidal thoughts had reduced, I had become over confident without realising that this was part of my Bipolar mood swings. I began laughing a lot, crying incessantly..at times I spoke non-stop and also spent money unwisely.
My indiscretions were getting me into serious trouble by now. I sent inappropriate messages and emails to many contacts including a CEO, Advocate, friends and colleagues with serious consequences. Police complaints were filed by the recipients of my annoying messages and in no time I had lost three jobs in a row. I was rejected in over thirty job interviews.
When I saw sad movies, I could not control my weeping and they affected me deeply. My sleep hours got disrupted, as I had lesser need for sleep. I then sent messages to my closest friend as well as his sister- which affected them (as well as me when I realised the consequence of my actions). Since then he ignored all my messages. I lost two dear friends due to a condition I had little control over.
My condition worsened and I began conversations with strangers speaking gibberish! I tried my best to patch up with my friend of fifteen years without success. It was then it dawned on me that there was something seriously wrong with me. When I said so to my family, they refused to believe me. I visited the Centre again and my Bipolar condition was confirmed. I wish I had heeded the Doctor's advice earlier! I met Dr. Pingale again and she warned me that medication was absolutely necessary to treat Bipolar.
My will was stronger than the storm battering me.
I began treatment from Aug 2014. I was already practicing Yoga and meditation- with the help of these practices, together with my treatment, I regained normalcy. While searching on the internet for support Groups for Bipolars, I came across this website, www.BipolarIndia.com. I was delighted to read articles and experiences shared on it.
My dear friend, if you are reading this, I request you to forgive me and accept me as a friend once again.
This article is dedicated to Bipolars.
Prasad, Hyderabad.
Prasad, 28, is a compassionate human being. He is actively involved in helping orphans.
He has also generously shared with this site the contact details of all Counseling centres
in India which offer free treatment.
I have updated these on our Resources Page.
Above is a true story, edited by Vijay Nallawala
Prasad also becomes the very FIRST person to Win a copy of my forthcoming Book,
"A Bipolar's Journey~ From Torment to Fulfillment"
under our inventive, "Share Your Story, Win A Book!" offer.