"Happiness lies within". Right? Of course. However, we Bipolars need our own bag of tricks to ward off the blues/stay upbeat. Each one of us has her/his pet escapes or methods of uplifting one's spirits. Some binge on chocolate, others spend time with friends while a few (unwisely) go shopping.
Which are my favorites? In random order..
1) Meditation is a daily activity. The calmness and the inspiration I derive after a morning meditating for say, half an hour, is matchless. Years of practice have enabled me to relax even when my mind is very agitated~ that is when I value it most.
2) Yoga and Exercise, again done daily, make me feel energetic and dispel my morning
lethargy.Proven mood elevators too. Healthy mind in healthy body~ absolutely! After Bipolar hit me, energy levels have tended to be subdued to the point of lethargy. A relaxed mind and a fit body boost energy like nothing else #Vitality
3) Listening to retro music  is very soothing. Music is known to have therapeutic qualities, not that I need any health reason to persuade me! I love both English and Hindi songs of the 70's and 80's. A nostalgic trip down memory lane….
Bee Gees- You Win Again
Sinead O'Connor- Nothing Compares To You
U2- With Or WithoutYou
Eddie Grant- Give Me Hope Joana

4) The blue skies, greenery, scenic landscapes and chirping of birds~ my mind ceases thinking and dissolves into the natural surroundings~ sheer bliss. Merely watching birds fascinates me.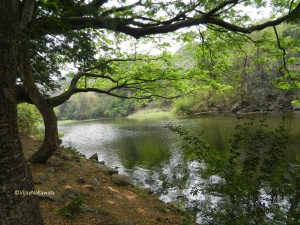 5) Walking, preferably among natural environs~ I could do so endlessly. Relaxing and healthy too~ a 30 minute walk is just the right mood upper. Also, since I work from home, it's an opportunity to venture out.
6) Ever since I took to writing in 2012, I wonder how I ever survived without it! A vehicle to express my creativity, it set me free.I have been writing regularly and this has become an indispensable part of my life. Brings my mood back on track.
7) Driving, preferably, on a country road with small villages dotting the landscape, tons of greenery to soothe the eye and to top it all, a journey to a favorite haunt.
8) Being of help to someone. The more you give, the more you receive. Is this the reason that I
should be generous? Certainly not. Giving without any strings attached is most fulfilling. #Compassion
9) However vexed my mind is, I invariably find the answer I am seeking in The Bhagavd Gita as It Is ~ having read it many times over, each morning I read passages from it to soak in eternal wisdom.
10) Watching movies and Cricket~ we have stopped frequenting the Cinema theater and I usually watch movies on our home set-up for entertainment. Westerns, Classics, Comedies, Action to Inspirational, I devour them all.
11) Time spent with my 9 year daughter, Diti, is hugely satisfying. Teasing her, sharing jokes, discussing things of her interest. Reassures me that I am a responsible father too~ I can at times get too self absorbed.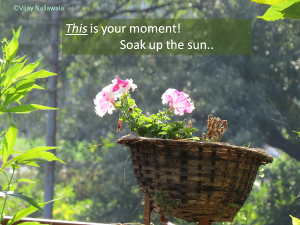 12) I hated photography until I got married. Khyati insisted (wisely), that we capture all the moments when Diti was born. Since then, there was no looking back. It has now developed into a full blown passion and clicking pictures of the wondrous outdoors is what I get lost in. Every vacation is an opportunity to go click happy!
13) Am a die hard romantic. Our marriage did see ups and downs for reasons besides my own challenges. I cherish our bonding. Conversations with Khyati, spending quality time with her and watching a movie together (going out is usually along with with Diti, our daughter).
14) Travel! Aah! Planning for it, doing all the research, weighing various options, planning the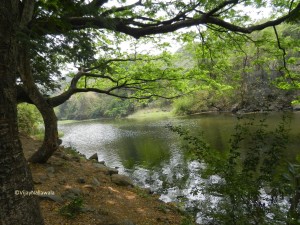 itinerary!! Great fun! As for the joy of actually going to a new place, taking in new sights, cultures and traditions, living in the moment every moment, coming back a new person~ priceless! Rarely do we bond as well together as we do on a vacation. The spirit of it all is infectious and with each vacation we grow closer. Beach resorts or up in the mountains, my spirits soar!
15) Letting go..of my past, any anger/resentment or frustration that I may hold. There are times when I must actively cleanse my mind of unwanted debris that prevents me from being joyful.
16) Social Media and the Internet~ they are a part of my very being! All the wonderful friends, connections and followers across SM platforms~ time spent in interacting with them, being entertained as well learning and sharing in the process, is a welcome distraction. Here I might add, I keep myself busy in work and pastimes. "An empty mind is a devil's workshop!"
17) Every now and then, I pause to reflect, take in the sights and sounds, the beauty around me,
live in the moment.
18) My Spiritual journey has empowered me to a great extent. Detachment has increased my coping skills and led me onto the liberating path of being non-judgmental. Eventually, there's this reassuring knowledge that however upset/depressed the mind may be, the deepest recesses of the mind cannot be flustered, taking cue from my blissful soul. #Authenticity

Back to where I began this post,
"Happiness lies within"